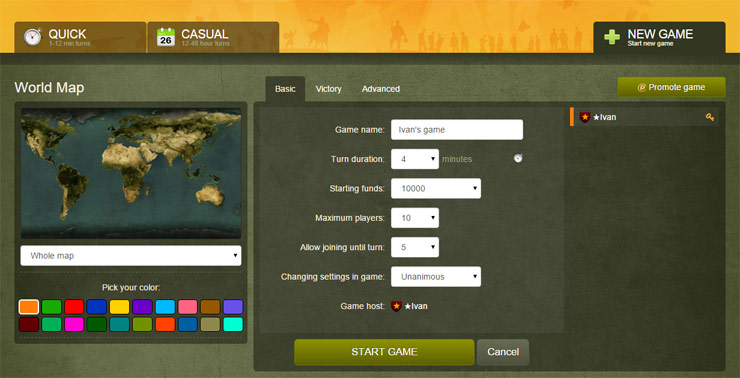 Once you've clicked 'Create new game', a small window will appear with initial game options. Here you can make your game 'private' (password-locked) or create a team game. Default option is public game without teams. There's also an option to set the required rank range for players who want to join (0 to 15, by default).
Team games: you can set 2 to 4 teams - players in these teams will be permanently allied, with no other diplomacy options. After players join the game, the team is assigned automatically, but you can change it in the players list in the lobby and in the country selection menu in the game.
After you click 'Continue' you'll be taken to the game options screen. On the left side there's a selected map (World map by default) - here you can select a preset (playable area) for the game. Select a smaller region for a faster game.
Starting funds: the amount of money each player starts with.
Initial countries: the maximum number of countries each player can select at the start.
Game duration: if there's no winner by the time the game reaches the set turn, the player (or team of players in team games) with the most SP wins.
Allow joining until week: after the set turn, new players cannot join the game anymore.
To start a game based on one of the user-created maps or scenarios, you need to go to the Maps/Scenarios screen and start the game from there.